Saturday, March 10, 2007
A TRIBUTE TO OPPOSITION PARTY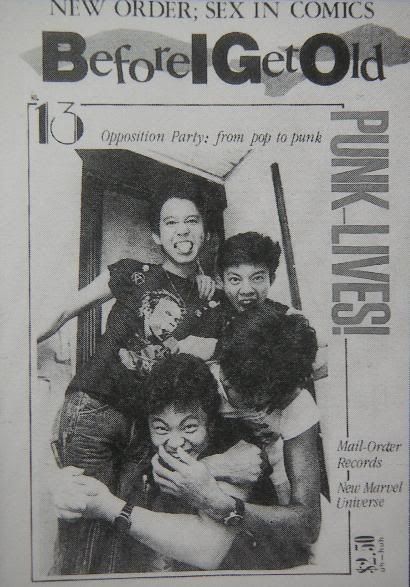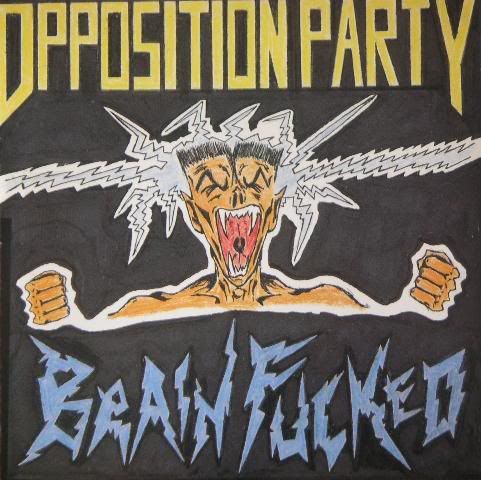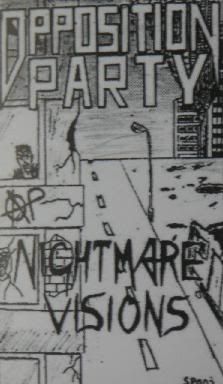 Opposition Party- Brain Fucked 7" EP 1992 and Nightmare Visions Demo 1991
What better ways to commemorate the godfathers of hardcore/punk/thrash/death metal than to pay my tribute, homage and dues to the legendary Opposition Party, which as the name implies, is as subversive as it gets. There was not much excitement on radio, even something as revolutionary as new wave (or ugh new romantics) picking up at that time, experimentation is not tantamount to explosion. The very explosive personality Francis Frightful, one dysfunctional Toa Payoh boy decided to give the local music scene a kick in the arse with some "raw fucking punk rock music" and thus the band was conceived in late 1986, consisting of Francis Frightful, Terence Terror, Willy Wanker and Vernon Vengeful. Back then there was already a staple of metallers from Mat-rock transitions, like Rusty Blade, Stukas and Nuctemeron, but Opposition Party decided to break new grounds by going all extreme and controversial (with their leathers and spikes and of course bad hairday mohawks). At Anywhere Lounge's "No Surrender" gig, on 30 May 1987 organised by BigO, they tore the stage apart with their puking hardcore punk sound with songs like "Boring Pigs" and "Masturbating with Missiles", which sets a new standard for many an aspiring skins punks thrashers and what not. Subsequently the lineup went down to three concrete forces consisting of Francis (vocals,guitars), Evan (bass, vocals), Michael (drums). Lee Piau (guitars) came on as frequent coalition member.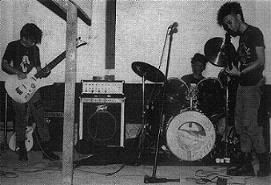 Opposition Party "No Surrender" Gig 1987

Opposition Party 1989 Lineup
I first got to know the band when I got lucky and scored a copy of their Brain Fucked EP back in poor school days. Musically, they were some of the rawest and ugliest I've heard, practically very simplistic and rumble-and-drone kind of Disorder, GBH-fueled hardcore. The EP was released in 1992 on a French label "New Wave", but the material was from the '80s. Here I find Francis making desperate calls and statements in the lyrics insert, pleading support from international punk scene as the "situation is really fucked-up in Singapore because there is no punk scene at all". It was around the turn of the '90s that they got into more speed thrashcore hybrid ala DRI, English Dogs, even Sodom and you can read about it in the reviews of "New School Rock I" compilation elsewhere in the website. By then, there is no stopping the band as their sound simply got heavier and heavier. After a couple of many more demos and compilations features, in 1995, they released a very killer death thrashcore metal cassette tape titled "Reborn" and I had the privilege to hear it. There was a couple of lineup change as they got one japanese guy Kazuo (bass), Ray Aziz (drums) and Danny Lim (guitars) where the last two guys are the most influential on the band's transition to thrashing, as they were the death metallers from Silent Sorrow. So to go with the flow they suddenly spotted long blowing locks and metal jackets. They also featured one the very killer song "Lonely Realm" in the opening scene of "Mee Pok Man", which went very great with the Geylang shotups.
*(I lost this tape and would appreciate if somebody can trade/sell me a copy).
In 1999, they came back with a four song EP titled "OP 1999" to announce their comeback followed by "EP ver 1.0" in 2000. This time round, Danny left and was replaced by good ol' Lee Piau on guitars. Now they sounded rather more brutal, though lesser on the death metal sound and more to technicality and high-speed. As of 2006, they released their very first full length CD, titled "Zombified" on Pulverised Records which showcases over 20 years of impending death.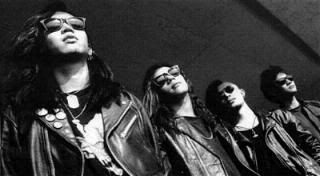 Opposition Party during Reborn-era 1995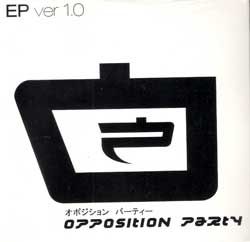 Opposition Party- EP Ver. 1.0 MCD

On many grounds I was influenced by Opposition Party. They had the unrelenting, "don't give a fuck" kind of attitude and perseverance which pretty much moulded my teenage rebellious days. I used to play in a couple of extreme death and thrash metal bands back in the past and I had always looked up to this legend as inspirations and reference. They proved that no matter how badly the world seems to be at odds against you, if you make an effort to speak, fight and/or shout out loud, to desire change, it will "eventually" not always fall into deaf ears and bend over to you. By the law of dharma that happened when they swam against the tides back in 1987 a period when everybody was ignorant, hostile and apprehensive of raw underground aggression, and they soldiered on, oblivious to complains, threats and indifferences. And they have gotten where they are today, setting a legacy that spawned hordes of eager metal, punk and hardcore devotees in the ever flourishing undergrounds of Singapore music.


Opposition Party- Chaotic Years 1989-1995 CD and Zombified CD


ANY LAST WORDS?
--sojourner at 2:06 AM